Changing the Face of Beauty in 2017

Changing the Face of Beauty is bringing their popular Headshot clinic to this year's Disabilities Expo! These Headshot Clinics are a perfect opportunity to get photos of  your child to present to modeling agencies. For just $25 you get the digital rights to 10 edited professional photos, which are yours to print and share. This is usually a $200 fee so this is a great opportunity to save big! If your child is interested in participating in this Headshot Clinic, please sign up online. Models can be ages 2-22.
Each headshot clinic helps Changing the face of Beauty and YOU encourage casting agencies all over the country to include talent with disabilities. This clinic will provide all that participate with digital images delivered via an online gallery within 2-4 weeks of the event as well as a Changing the Face of Beauty t-shirt!
We hope that through this headshot fundraiser you will consider asking local casting firms to represent your loved one. The funds from each clinic will go to helping Changing the Face of Beauty continue to grow and educate the world on the importance of all people of all abilities being seen in the media and advertising.
"Tell Your Story" Tent
Everyone has a story to tell and Fifth Freedom would like to record your story. Stop by the "Tell Your Story" Tent to share your proudest achievements, lessons learned or the happiest moment of your life. Your personal story, told in your own voice, will be captured and shared along with others to inspire the community and advocate for those with disabilities.
Register to tell your story here.
Adaptive Sports
Wheelchair basketball and quad rugby are just a few of the many adaptive sports to be featured at the 2017 disABILITIES Expo. Also, participate in a Meet & Greet Reception for local and other Indiana Paralympians. Love to dance? Individuals learn ballroom dancing with Easter Seals Arc.
Wheelchair Basketball
The Turnstone wheelchair basketball team is a group of talented athletes with a history of winning. Both the Prep and Varsity Division teams are members of the NWBA and play in tournaments across the country as they vie for a national championship.
In order to start playing wheelchair basketball there is only one piece of equipment that is needed that is different from playing stand up basketball – a wheelchair! The game is played using stand-up basketball rules with the exception of two rules – players must dribble the ball at least once every two pushes and there is no double dribble violation. If you are a wheelchair user, you can start playing in your everyday chair in order to get a feel for this fun and exciting game. Cheer on these Turnstone teams as they demonstrate their athletic prowess and their winning ways.
Quad Rugby
Wheelchair Rugby is unique amongst wheelchair sports in that it is not a derivative but rather is faithful to the rules of the game with tries, conversions and all the other familiar aspects of the game which makes it instantly recognizable. The Turnstone Rugby team plays in the national league and are always on the lookout for new players to join their ever expanding ranks. Stop by to find out more information and check out game play.
Art Exhibit and Sale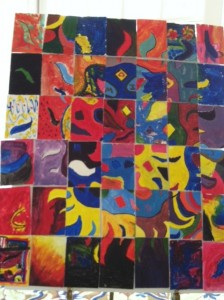 Experience art in its various forms, styles and subject matter. It is all on display to showcase the artistic talents of individuals with disabilities in northeast Indiana. Many pieces are for sale so you can continue appreciating the artist and the art at home or in your office. Don't miss this opportunity to enjoy and shop these wonderful, artistic creations. If you would like to submit art for the exhibit, complete and return the submission form.
Photography Partnership Project Exhibit
It is said that pictures speak 1,000 words. These images not only speak, they create emotion. The people in these exhibit photos show that individuals living with disabilities are strong, confident, successful and, most of all, happy. Portraits of individuals with disabilities, photographed by University of Saint Francis visual arts students, will capture Expo-goers' hearts and provide a glimpse into what makes the subject matter special. We express our thanks and appreciation to Professor Cara Wade and the visual arts students for capturing these images.
Employment Services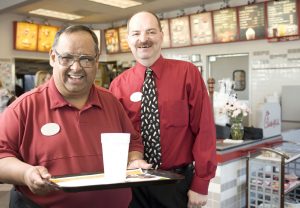 Entering or reentering the job market is made easier with the help of experts in employment services knowledgeable about hiring individuals with disabilities. At the Expo, one-on-one counseling is available for job readiness, resumé writing, interviewing and job searches.
Performances
The disAbilities Expo is proud to showcase the theatrical, musical, and creative talents of individuals with disabilities. Each year, these performances put their abilities on center stage, upstaging their disabilities. This year, we have One Heart Bells and Voices Choir and Friends in Focus A Capella Singers performing. The Jesters return to the stage once again along with Premiere Dance Company's Soul Brothers & Soul Sisters, and the Dazzlers will cheer you on for a great day of fun as you gather information on new products and services.
Jesters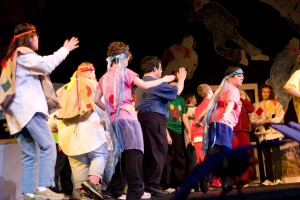 Each year, the Expo stage is pleased to welcome the region's largest and longest-running theatrical troupe of individuals with special needs, the Jesters. A program of the University of Saint Francis School of Creative Arts, the Jesters provides an important creative and social venue for individuals with intellectual disabilities. Music, dance, theater, and puppets are incorporated into their inspiring productions featuring extraordinarily talented actors.
This year the Jesters are performing "I Am a Person." The theme of the show is about removing both real and perceived barriers that keep people with disabilities separated from the community. Performers use music, dance, theatre, visual art and puppets to address the need for human connection of all types and inclusive of all people. The piece uses short statements celebrated with creative musical, language, and sound responses.

About the Jesters
Sponsored by the University of Saint Francis and founded in 1978, the Jesters is a theatrical group comprised of people with mild to severe developmental/physical disabilities. The program consists of 20 weeks of customized, structured movement, dance, music (instrumental and voice), theater and visual arts activities September through March, culminating in a multi-media stage performance in March. Fifty individuals participate in Jesters and range in age from 6 to 50. Jesters is one of a very few such performance groups in the country.
Premiere Dance Studio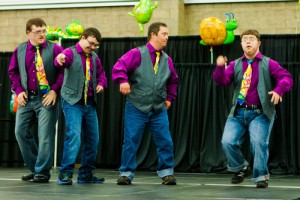 Let them entertain you! Known as The Soul Brothers, David Miller, Austin Hamman, Michael Peoples, David Lash, Griffin Tutwiler, Elijah Eguia, Kyle Miller and William Alvarez are the area's best loved special needs dance group. Their rousing renditions of fan favorites like Kung Fu Fighting will have you dancing in the aisles – they rock!
Not to be outdone by the boys, the girls of Premiere Dance Studio's special needs program kick up their heels and show off their moves to the music of Best Summer Ever. Dancers Addison Merical, Kristy Meeks, Lydia Mihuc, Julia Ping, Summer Goodwin, Mia Welker and Megan Locke bring cool moves to great music.
Dazzlers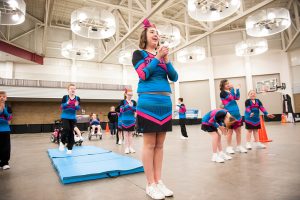 The Whitley County Dazzlers Cheerleading Squad is in their 6th season with nearly 30 team members. This winning team was invited to the first ever all special needs cheerleading nationals held in Washington, D.C. Working with middle and high school students around the community, it's fun and friendship with a little exercise thrown in for a great show of spirit.
Friends in Focus A Cappella Chorus
Comprised of 7 members ranging from 53 to 87 years of age that are blind and visually impaired, the chorus is now in their fifth year of entertaining the community. With more than 20 singing engagements during 2016 alone, they have performed at a TinCaps game, numerous nurse homes and assisted living facilities and welcomed home WWII Honor Flight participants. This lively and upbeat group is a joy to behold.